Glassix [version 0.50.2] - 14 July, 2020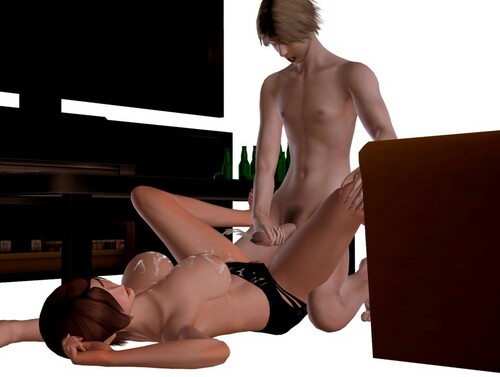 NFO
Release date: 14 July, 2020
Genre: 3DCG, ADV, Oral sex, Anal sex, All Sex, Animation, Fantasy, Flash, Hypnosis, Sex sim, SLG, Titsjob, Assjob, Titfuck
Censorship: NO
Developer / Publisher: Gaweb Studio
Platform: Windows
Version: 0.50.2
Language: English / France / Russian / Chinese / Polish
Size: 4.66 GB
Description:
Glassix is a project aiming to give you another way to enjoy custom made games. Glassix will focus on the story to let you enjoy a more classic visual novel game with point click elements…
Game Features:
– 8 girls with unique kinks, more girls will be added later on
– Roam in the city and interact with the girls, the city is expanded little by little
– Obedience level 2 current max, level 4 will be the max
– Day 1 introduces the story and the 5 first girls
– Additional events and girls to discover in town after day 1
– City map interface
– Manage the girl's affection and obedience to fit your need
Changelogs
v0.50.2
Added new game option to earn the daily affection and obedience points faster when interacting with a girl
"Ask for money" event has been moved to its own tab
Reduced money gained from girls when asking them
Added "Ask for money" option in slave mode which does not cause affection loss
Chinese translation updated by Darkbatex
Fixed bug with girl's icon in popup disappearing too soon when an event triggered
So, a small patch but some important changes.
First, the ask for money event has been moved to its own tab to reduce interactions since players mostly interacted with the talk option to get the daily affection point. I should have anticipated this ??
Secondly, following up on this logic (too many clicks to do stuff), I've added a new option in the game menu so that when the player interacts with girls, he'll directly get the daily affection point for the talk option as well as the daily obedience point for the follow me option without having to click those options. This should make the game less clickity clack.
Finally, two small points, players reported the amount of money given by girls to be too high, which I thought too but was not sure yet. Since it's been confirmed by players themselves, I've reduced the amount. However since the affection penalty stays the same, this downside is balanced by the new option to ask money in slave mode which does not cost affection points this way.
Let me know what you think of these game changes to know if I'm going the right way. I'll go back to working on Ayane now ??
Thanks for your time and feedback!
Download
https://fboom.me/file/8a414535794a4/...8484.part1.rar
https://fboom.me/file/a1c2e089e160e/...8484.part2.rar